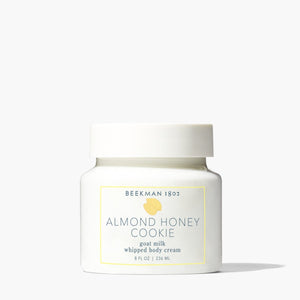 Our new holiday scent is so sweet we wish we could eat it!
 This decadent body cream is like a dessert for dry skin! Rich goat milk and creamy butters deeply hydrate and soften skin, while notes of Marcona almond, golden honey, and sweet vanilla will leave you smelling like a freshly baked cookie.
Whipped Body Cream comes in an 8 oz jar.
Made  locally at the Beekman 1802 farm in Sharon Springs, New York.