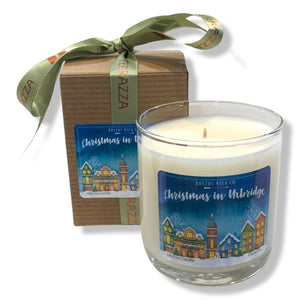 Fraser Fir - The classic Christmas Tree scent.  Just cut down and brought into the house and ready for decorating.  A woody, balsam fragrance that makes you think Christmas.  A must have around the holidays.
Decorated for the Holidays and the sentiment "Christmas in Uxbridge", these candles really set a festive mood.  Perfect for a hostess gift or a cozy winter evening. 
These poured candles are locally made in MA.
10.0 oz.