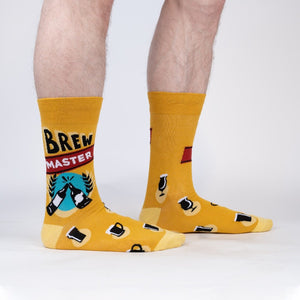 Cheers! Prost! Salut! No matter how you say it, there's a good chance that when you say it you're holding a bottle or goblet or pint glass of something tasty. You're the Brew Master: appreciator of beers from light to dark and hoppy to malty. Our Brew Master Crew Socks are the perfect socks for you to wear to your next beer festival or the next time a rare keg gets tapped.
Approximately fits men's shoe size 7-13
54% Cotton / 43% Polyester / 3% Elastane.