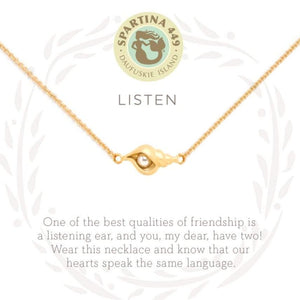 At Spartina, they are often inspired by wandering the rustic shores of Daufuskie Island, South Carolina. It reminds us to live simply, to focus purely on the things that matter most. That means listening to your heart, following your dreams and finding yourself. We hope that wearing these delicate mementos will remind you to live simply, too...
LISTEN

One of the best qualities of friendship is a listening ear, and you, my dear, have two! Wear this necklace and know that our hearts speak the same language.
Our 18 KT, Gold Plated Jewelry glimmers in the glint of the bright sun, just like you.