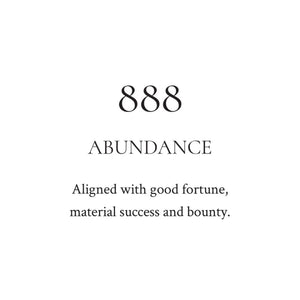 Aligned with good fortune, material success and bounty, angel number 888 embraces infinite possibilities.
This angel number sequence is all about positive, endless energy that you can access to accomplish your goals. When you see 888, know that big things are coming your way. Be prepared to seize new opportunities and look for ways to share your abundance with others.
The 888 candle casts opulent rose and tangy red currant to weave a fragrant tapestry of the senses. Light the 888 candle and manifest the abundance on your horizon.