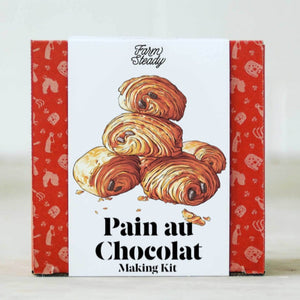 Experience the charm of French pastry without leaving your home. Our Pain au Chocolat Making Kit invites you on a delightful baking adventure, introducing you to the art of dough lamination—the key to crafting classically French and perfectly flaky pastries in your not-so-Parisian kitchen.
Rolled with Chocolate
A truly authentic Pain au Chocolat is loaded with rich dark chocolate. When making them for yourself, simply roll up the included chocolate batons in your handmade pastry dough for the most indulgent baked good ever to leave your oven.
Flaky Laminated Dough
Perfectly laminated dough is what makes Pain au Chocolate so special. The key to this most delicious of French pastries, lamination, creates a crust that's flaky, delicate, buttery and topped with a signature crispy shell for the perfect bite.
Your Essential Baking Kit
Our thoughtfully curated kit provides the baking ingredients, indulgent dark chocolate Batons, high-quality baking yeast, and a parchment forming envelope. With ingredients designed to stay fresh for 12-18 months, you can choose the perfect moment to embark on your baking journey.
Celebrate (And Share) Your Creations
Once done, you'll have 6 delectable chocolate croissants. Ideal for sharing, gifting, or enjoying solo. Crafted with care in New York, our kit is tailored for both beginner and seasoned bakers alike- for anyone who cherishes the process as much they love the smell of warm freshly baked French pastries.
Included in the Pain au Chocolat Making Kit:

French Pastry Baking Mix

12 Dark Chocolate Batons

Baking Yeast

Parchment Forming Envelope
Needed but not included:  Butter, Egg, Milk or Cream