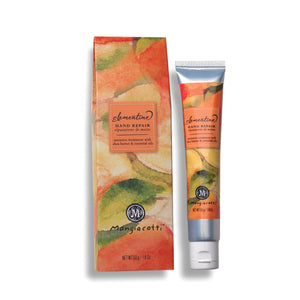 Intensive Hand Repair instantly soothes and moisturizes dry, chapped hands. Enriched with shea butter, chamomile extract, and essential oils. Quite possibly the very best hand treatment you have ever used. 1.8 ounce tube includes a beautiful box for gifting.
 - convenient flip cap, perfect for any size purse
- quickly absorbed and never greasy
- repairs hands by deeply penetrating the second layer of your skin to create a protective barrier
- a little goes a long way, apply once daily.
Clementine Fragrance: This wonderful citrus fragrance includes top notes of tangerine, orange, and grapefruit, with a fresh base note of vanilla bean for a warm finish.
Handcrafted in USA by people with disabilities.
Dimensions:
Weight: 5 ounces