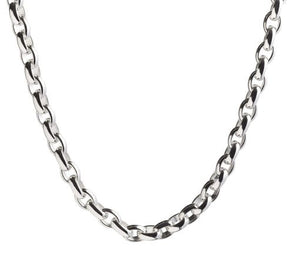 The signature rolo chains are most popular. The flexibility in creating your desired length for optimum layering of our pieces or to fall just right on your neckline. It is the most versatile chain.
Small 4.0mm – The Small rolo also works really well with medium, small, and minis. Perfect for layering the smaller sizes.
XSmall 3.0mm – The XSmall rolo works well with small and mini pendants. Perfect for layering the smaller sizes.
All chains are available in 16", 18" & 20" and the 3mm is also available in 24″ & 30″
Care
Polishing your Sterling Silver 925  chains will help maintain the finish and reduce the natural buildup of tarnish. Use a polishing cloth and buff your jewelry to remove tarnish and bring out the original finish and luster of your pieces.