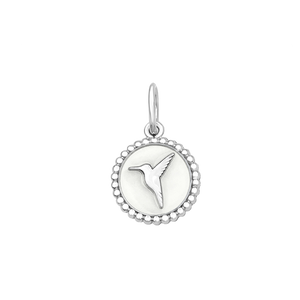 Legends say that hummingbirds float free of time, carrying our hopes for love, joy and celebration. 
The hummingbird's delicate grace reminds us that life is rich, beauty is everywhere, and every personal connection has meaning.
MESSENGER OF LOVE

Sterling silver with enamel inlay & beaded border.


Size
Mini is a little over 1/2"
Small is a little over 3/4"
Medium is a little over 1"
Large is a little over 1 1/2"