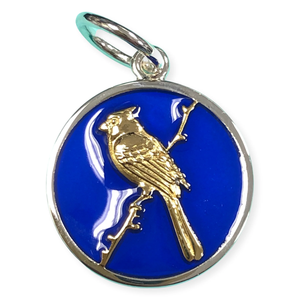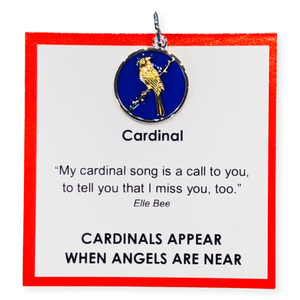 **A Terrazza exclusive**

"CARDINALS APPEAR WHEN ANGELS ARE NEAR"
Northern cardinals are associated with a number of legends, folklore, emotional and spiritual beliefs in many different cultures.
These beautiful birds are a reminder that loved ones will never truly be forgotten.
Royal Blue enamel with Gold Vermeil Center.  Pendants are 18 karat gold plate over Sterling Silver.

Chose a chain here:
https://terrazzagifts.com/collections/lola/products/lola-signature-rolo-chain
Care
Enamel is glass, so everyday dirts, oils and/or fingerprints can be easily wiped off with a polishing cloth or a gentle cotton cloth with soap and water. Store your jewelry in a place where it will not be touching other jewelry to avoid having your pieces scratched or damaged.
Size
Small is a little over 3/4"