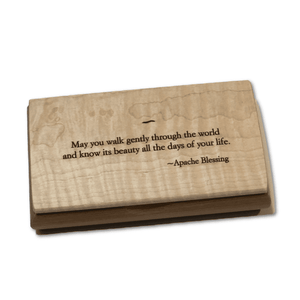 Such a beautiful sentiment!!
This beautiful wooden possibilities box  (5.5" L x 3" W x 1.25" H) comes engraved with the sentiment "May you walk gently through the world and know its beauty all the days of your life. -Apache Blessing" .
Crafted by Mikutowski Woodworking in the USA, this special little box is ready for gift giving on its own, or add something special inside for that special someone in your life.