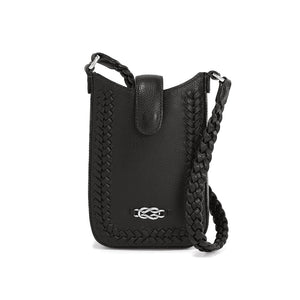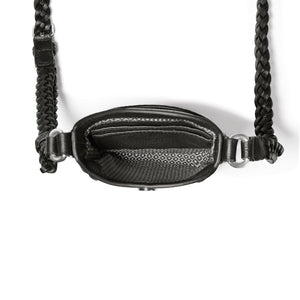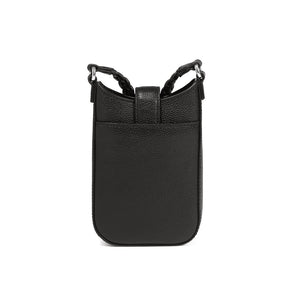 Decorated with beautiful artisanal lacing contouring the shape of the bag, it has a center compartment with two credit card slots on the back wall and a snap front closure. It's the perfect companion to keep all your essentials organized. Tuck your phone in the back pocket.

Style: #E55163
Color: Black
Width: 4 3/4"
Height: 7 1/4"
Depth: 1 1/4"
Credit Card Slots: 2
Exterior Pockets: 1
Exterior Material: Leather
Top Closure: Snap
Strap: Adjustable to 27"
Suggested Retail Price: $210.00
CARE
Keep all bags tucked away from debris or dust when not using
For our leather handbags, we suggest cleaning it regularly, leather conditioner is best
Micro-fiber handbags, a warm damp cloth can be used to wipe away debris
For any silver ornamentation just wipe down with a dry 100% cotton cloth.