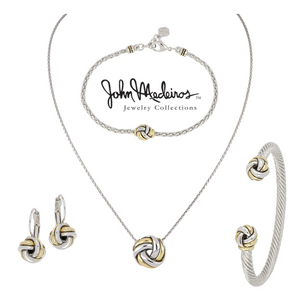 For A Love That Will Last Until The End Of Time, The Infinity Knot is Perfect to Show the infinite love you share with family, friends, and life partners. 
Each piece is handcrafted with:
Base Material: Non-precious lead-free premium alloy with .05% of silver which are strong and lightweight.

Overlay/Finish/ Electronic Plate: Rhodium and 14Kt gold which has a permanent non-tarnish, easy to care for finish. Rhodium, a derivative of platinum, has all the attributes of platinum with the added benefit of being harder, lasting longer, and a whiter tone.

Stones: 

Our product stones are Cubic Zirconium. Even when the glitter of diamonds is undeniably gorgeous, high-quality stones are expensive and many women turn to cubic zirconia (also known as CZ) as an affordable substitute. An engagement ring, necklace, or pair of earrings designed with this synthetic stone can be just as beautiful as any natural diamond, but man-made Cubic Zirconium will not chip, crack, cloud or fade. In fact, Cubic Zirconium is virtually indistinguishable to the eye by diamond experts, can scratch glass like natural diamonds, and is tougher than a sapphire.

Earring Posts: Surgical steel which are ideal for sensitive ears prone to infection or allergies.