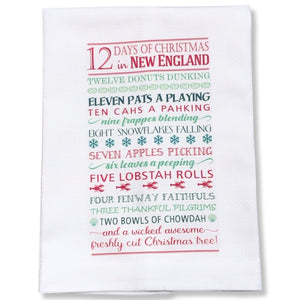 A fun towel for anyone who lives in New England ...or fun to send to family and friends in other parts of the United States!   
12 Days of Christmas in New England
12 Donuts Dunking, 11 Pats A Playing, 10 Cahs a Pahking, 9 Frappes A Blending, 8 Snowflakes Falling, 7 Apples Picking, 6 Leaves A Peeping, 5 Lobstah Rolls, 4 Fenway Faithfuls, 3 Thankful Pilgrims, 2 Bowls of Chowdah, and a Wicked Awesome Freshcut Christmas Tree!!!