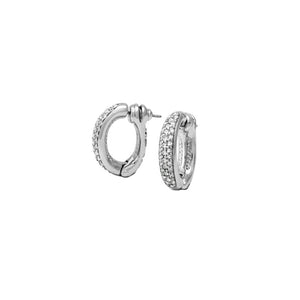 John Medeiros Antiqua Pave' Snuggy Earrings made from Rhodium and handcrafted with cubic zirconia in a pave' setting. The huggie hoop design is made for a more secure fit with your ears.     

Handcrafted in USA - locally in Rhode Island.
Dimensions: approximately 3/4" long and 1/4" width
Weight: .3 ounces
Base Material: Non-precious lead-free premium alloy with .05% of silver which are strong and lightweight.

Overlay/Finish/ Electronic Plate: Rhodium and 14Kt gold which has a permanent non-tarnish, easy to care for finish.