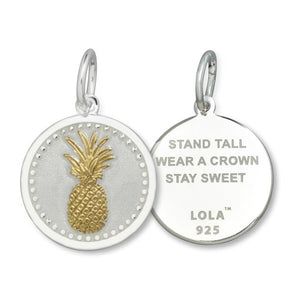 The pineapple has been a symbol of warmth and welcome for centuries in America. Designed with amazing detail, our pineapple will encourage you and those around you to Stand Tall, Wear a Crown and Stay Sweet!
Care
Enamel is glass, so everyday dirts, oils and/or fingerprints can be easily wiped off with a polishing cloth or a gentle cotton cloth with soap and water. Store your jewelry in a place where it will not be touching other jewelry to avoid having your pieces scratched or damaged.
Size
Mini is a little over 1/2"
Small is a little over 3/4"
Medium is a little over 1"
Large is a little over 1 1/2"