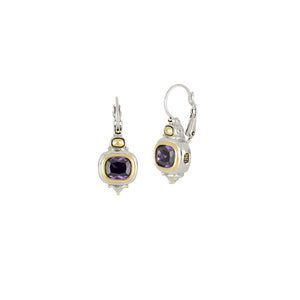 John Medeiros Nouveau French Wire Earrings. With hand-carved precision detailing with Amethyst Swarovski detail his designs are created with passion that result in perfection.   

Handcrafted in USA - locally in Rhode Island.
Dimensions: approximately 1" length and 1/2" width
                  
Weight: .3 ounces
Base Material: Non-precious lead-free premium alloy with .05% of silver which are strong and lightweight.

Overlay/Finish/ Electronic Plate: Rhodium and 14Kt gold which has a permanent non-tarnish, easy to care for finish.