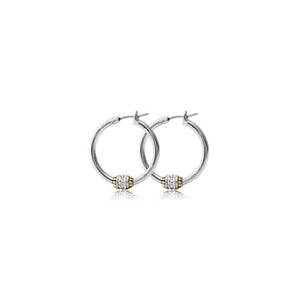 John Medeiros
Beaded Pavé Triple Bead Hoop Earrings by John Medeiros Jewelry Collections.
Diameter: 1-1/4"
Handcrafted in USA - locally in Rhode Island.
Weight: .3 ounces
Base Material: Non-precious lead-free premium alloy with .05% of silver which are strong and lightweight.

Overlay/Finish/ Electronic Plate: Rhodium and 14Kt gold which has a permanent non-tarnish, easy to care for finish.