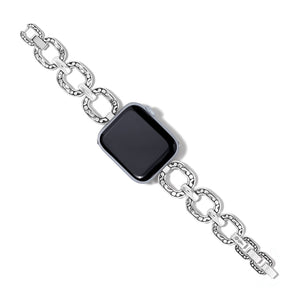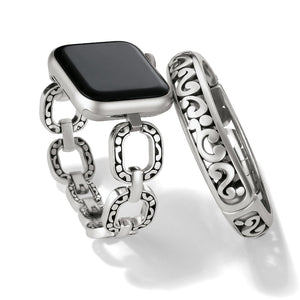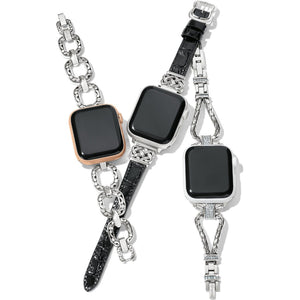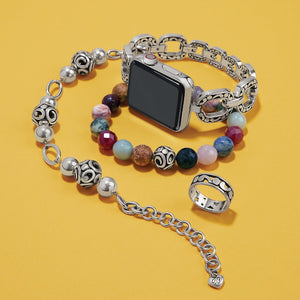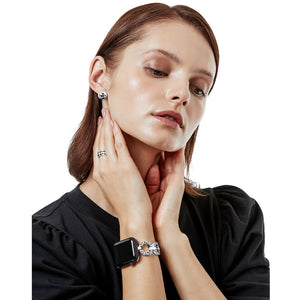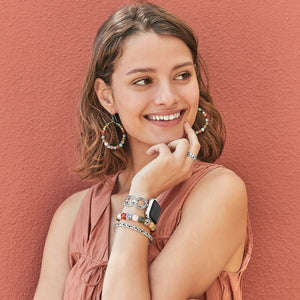 Designed to fit your Apple Watch®, our silver Contempo Linx Smart Watch Band pairs functionality with style, featuring scrollwork from our Contempo Collection. It offers three fold-over clasp extenders for adjustability, and fits 38 mm case size and larger.
Style: #W41170
Color: Silver
Closure: Fold-over clasp
Length: 6 1/4" - 7 1/4" Fold-over clasp
Removable Links: Yes
Finish: Silver plated
Features: Fits 38mm - 44mm watch case sizes
Suggested Retail Price: $98.00
CARE
We have a double coating of lacquer finish on all of our jewelry items so all you need is just a few tips to keep your jewelry looking good from season to season.
To keep it clean, just wipe down your piece with a dry 100% cotton cloth
Tuck the piece away when not wearing
Keep it away from water, jewelry cleaners, and harsh chemicals
It is not designed to be worn 24/7, so give your beautiful piece a break once in a while.