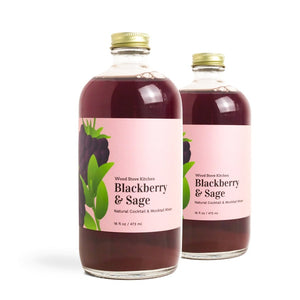 Made in New England by Wood Stove Kitchen!
This will become one of your favorite cocktail and mocktail mixers. It tastes amazingly like blackberries and is complemented perfectly by the soft sage. It is refreshing yet also brooding -- You will love it with a bit of bourbon over ice, though it's also an ideal accompaniment to gin, vodka (Tito's anyone?), or rum. Mix it in with a bit of iced tea or seltzer for a refreshing, non-alcoholic drink.
Note: This product is concentrated, so you can get 10+ cocktails out of a single bottle. Only 40 calories per serving.