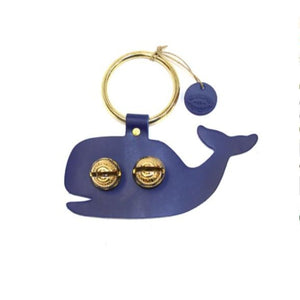 Get nautical with this great door chime.  Great for those who love the ocean.  This design is stamped out of authentic leather. An old-fashioned, foot powered, riveter is then used to attach the 2 1/2" ring with two charming #2 bells are added.
Great way to train your dog to ring the bell when they need to go out! 
Color: Blue with Brass Bells
Each chime has a hand punched and stamped leather tag affixed to the ring.
Dimension: Average size: 7" x 6"
Weight: 1 pound