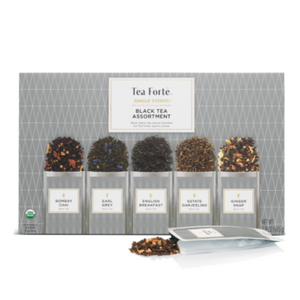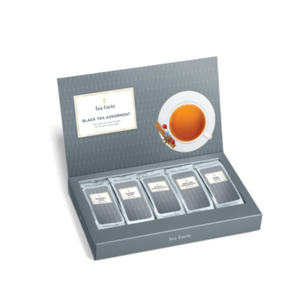 The perfect measure for the perfect cup™
Single Steeps® easy to use, pre-portioned pouches are a convenient and simple way to prepare the perfect cup of premium loose leaf tea. Steeping delicious and exceptional tea is as simple as opening the pre-portioned pouch of tea, emptying the contents into a personal teapot or infusing basket, and pouring the water over the leaves to steep the perfect 12 oz cup or single pot of tea.

This luxurious assortment includes five blends of the world's finest black tea leaves, blended for bold flavors. The complete tasting menu on the back of the box will guide you through the luxuriant tastes.
Each Single Steeps box contains fifteen pre-measured loose tea pouches, three of each blend: Bombay Chai, Earl Grey, English Breakfast, Estate Darjeeling and Ginger Snap. All teas in this collection are Kosher Certified and USDA organic.