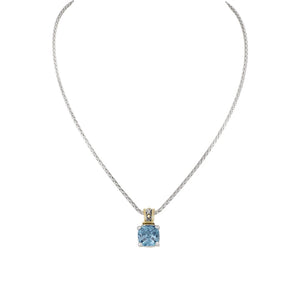 John Medeiros 
Beijos Cor 10x10mm Cushion Cut Pendant Necklace by John Medeiros Jewelry Collections
Length: 16-18" adjustable
Pendant: 3/4"L x 3/8"W
Handcrafted in USA - locally in Rhode Island.
 

Base Material: Non-precious lead-free premium alloy with .05% of silver which are strong and lightweight.
Overlay/Finish/ Electronic Plate: Rhodium and 14Kt gold which has a permanent non-tarnish, easy to care for finish

Wipe clean using only a soft dry cotton cloth to remove all oils and abrasives after wear. Do not use any chemicals or polishing cloth as this will affect your warranty.
Avoid perfumes, salt and chlorinated water.
Remove before bathing. Avoid any surface water contacting your jewelry.