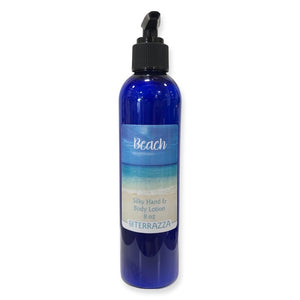 You will love this silky hand and body lotion.  Luxurious enough to be used all over and light enough to be reapplied throughout the day.  This non-greasy formula leaves your skin perfectly moisturized and delightfully fragrant. 

This Beach scent has been a hit for quite some time.  It will remind you of the sun, beach, sand, and suntan lotion all in one!  
Made for Terrazza by Molly's Apothecary in Medway, Ma.