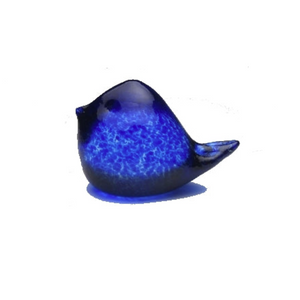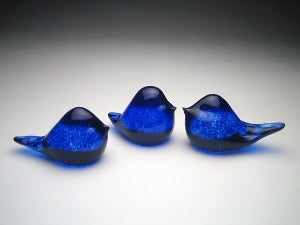 Surprise Mom with this adorable bird!
Did you know that spotting a bluebird is usually recognized as a symbol of joy and also a symbol of happiness that you'll be expecting in the future?
The symbolism of the bluebird is found in many cultures and dates back thousands of years. It can also represent hope, cheerfulness, prosperity, good health, and renewal coming your way!  We all need a bit of that in our lives! 
This hand blown glass bluebird will bring a smile to your face or brighten the day of its recipient.  Each bird comes in its own box and a petite artist/story card enclosed with space for a special message to be written if the bird is being given as a gift.

Please note: due to the artisan, handcrafted nature, the birds come in many different 'personalities' there will be a slightly wider range of dimensions than seen in the images. No two are alike!!!! Which makes them even more special!

Handcrafted in the USA, in Rhode Island.

Dimensions: approximately 2" tall and 3" long
Weight: 3.0 oz