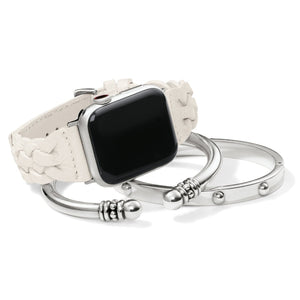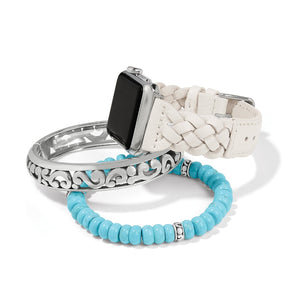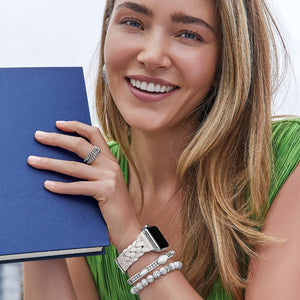 Love your Apple Watch® – but also love the look and feel of soft Italian leather? Get the best of both worlds with our smart watch band featuring hand braided leather and stunning detail. Available in a multiple hues and designed to fit 38 mm case size or larger.
Style: #W2042C
Color: Optic White
Closure: Buckle
Length: 8 1/4"
Material: Leather
Finish: Silver plated
Features: Fits 38mm and larger watch case sizes. Watch face sold separately.
Suggested Retail Price: $78.00
CARE
We have a double coating of lacquer finish on all of our jewelry items so all you need is just a few tips to keep your jewelry looking good from season to season.
To keep it clean, just wipe down your piece with a dry 100% cotton cloth
Tuck the piece away when not wearing
Keep it away from water, jewelry cleaners, and harsh chemicals
It is not designed to be worn 24/7, so give your beautiful piece a break once in a while.