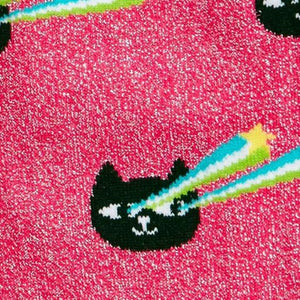 Hungry cats will let you know it. Wherever you are, they'll find you and go "Mew! Mew!" Most cats, anyway. These cats are a little different. They might mew a few times but don't keep them waiting. The "Mew! Mew!" will quickly turn to "Pew! Pew!" and lasers will shoot out of their eyes. It's hard to say if they decided to start doing this because it gets them fed faster, or if they're just regular mischievous cats. It's easy to say you'll look great in these Pew! Pew! Crew Socks, part of our Shimmer line made with metallic threads that shine in the light.
50% Cotton, 42% Polyester, 6% Metallic, 2% Spandex. Made in S. Korea.
Approximately fits women's shoe size 5-10 and men's shoe size 3.5-8.5.