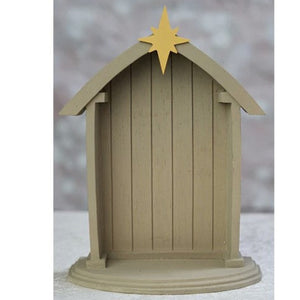 This beautifully crafted manger, including Christmas star, will make a beautiful backdrop for your Lori Mitchell Nativity collection.  
Lori Mitchell was born and raised in Marietta, Georgia.  She received her degree form The Rhode Island School of Design and  has always been inspired by childrens themes and literature, old illustrations and toys.   She started creating her works of art in 1999 and today many collect her beautiful creations. 
Dimensions:  Approximately 13.0" x 10.0"
Composition:   Poly Resin
Lori Mitchell Folk Art figurines Design by: Lori C. Mitchell™