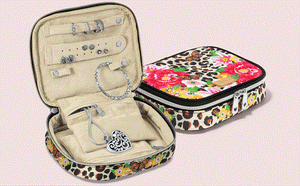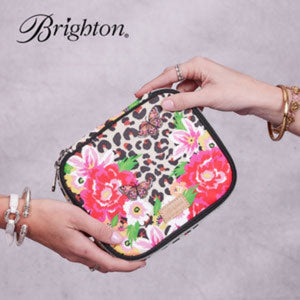 Perfect for carrying all your favorite Brighton pieces wherever you go, our Garden Spots jewelry case is yours free with a purchase of $125 or more.
(While supplies last. Retail value $60.)
This classic animal print jewelry case by designer Catherine Hong will be spot-on with women, and makes a great Mother's Day gift. The giant camellia flowers, other pretty blooms and a butterfly are a perfect-for-spring pattern. On a dressing table or while traveling, it holds a lot of jewelry treasures inside.
CARE
Keep all bags tucked away from debris or dust when not using
For our leather handbags, we suggest cleaning it regularly, leather conditioner is best
Micro-fiber handbags, a warm damp cloth can be used to wipe away debris
For any silver ornamentation just wipe down with a dry 100% cotton cloth.