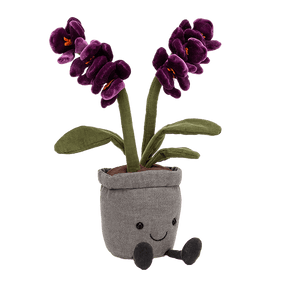 Amuseable Purple Orchid is putting on a fine display! Just look at those big, marshmallowy blooms – like puffs of silky steam! With a linen pot, fluffy choc soil, and cordy boots and leaves, this cheerful charmer would make a calming gift for anyone.
SAFETY & CARE
Tested to and passes the European Safety Standard for toys: EN71 parts 1, 2 & 3, for all ages.
Suitable from birth.
Hand wash only; do not tumble dry, dry clean or iron. Not recommended to clean in a washing machine.