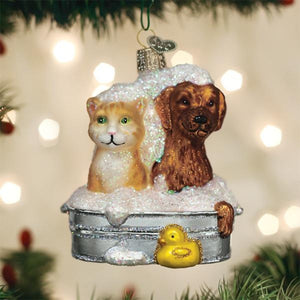 Best buddies for life, this cat and dog do everything together, even share their yellow rubber duckie. The companionship of a best buddy is incredibly special whether a person, cat or dog. A best buddy can make the sun shine in your heart through every season.
Each figurative ornament produced by Old World Christmas is hand crafted in age-old tradition using the same techniques that originated in the 1800's. Molten glass is mouth-blown into finely carved molds made exclusively for Old World Christmas, before a hot solution of liquid silver is poured inside. The ornaments are then hand-painted and glittered in a series of labor-intensive steps to achieve the beautiful creations.
Comes boxed with tissue for gift giving and safe storage. 
Dimensions: 2.75 X 3.25 X 3.5 (HxLxW)