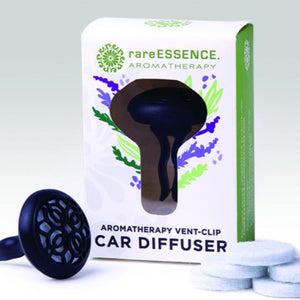 Pair with one or two essential oils for a fantastic, mood enhancing gift!
An easy way to diffuse pure essential oils and blends in your vehicle. Specially designed for an enhanced aromatherapeutic experience to help you relieve stress, focus, or give you an invigorating boost!
Easy Operation: With one hand, hold the clip and with other hand gently pop off the top cover. Apply between 5 and 15 droplets of your favorite rareESSENCE Aromatherapy essential oil or blend onto diffusing pad. Clip to car air vent. Pads can be used more than once – they typically last about one month. Replace pad when you notice the scent is not diffusing well.