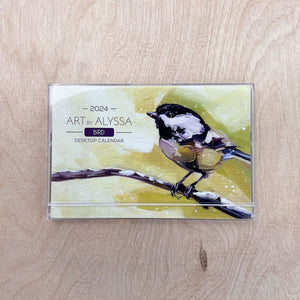 Art by Alyssa desktop calendars make great gifts for yourself or others!
You will receive your calendar packaged in a protective acrylic jewel case, which also doubles as an easel stand to conveniently display each month.
You can also frame them or even hang all of them up on a wall for a full year viewing.
They measure 4" h x 6" w. Each month with it's own unique image originally painted in oil by Alyssa. Holidays are printed on a separate card which you can store in the back for easy viewing.