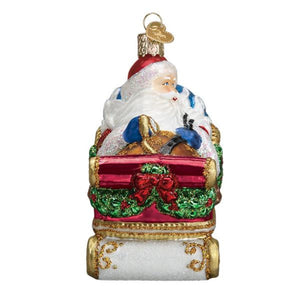 The legend of Santa Claus is derived from the European figure of St. Nicholas and 19th century American children's poems. Santa Claus is the jolly man dressed in red who travels by sleigh, the folk hero and gift giver of Christmas. Santa Claus embodies childhood innocence and magical holiday delight.

Each figurative glass ornament produced by Old World Christmas is hand crafted in age-old tradition using the same techniques that originated in the 1800's. Molten glass is mouth-blown into finely carved molds made exclusively for Old World Christmas, before a hot solution of liquid silver is poured inside. The ornaments are then hand-painted and glittered in a series of labor-intensive steps to achieve the beautiful creations.
Comes boxed with tissue for gift giving and storage. 
Dimensions: 2.25 X 2.5 X 5.25 (HxLxW)