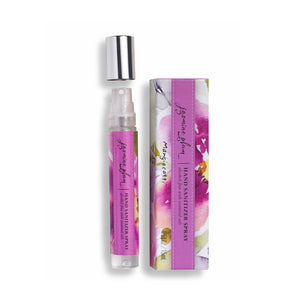 Hand Sanitizer spray kills 99.9% of most common germs by using Benzalkonium Chloride as an antimicrobial*. Fragranced with essential oils.  Use anytime, anyplace without water or towels, when hand-washing with soap and water are not available.
- fragranced with essential oils.
- dries instantly leaving hands feeling soft and silky.
- over 100 uses per bottle for long lasting protection. 
- perfect travel size with a beautiful box for gift giving. 0.5 ounce bottle.
*Active Ingredient:  Benzalkonium Chloride, is in compliance with FDA regulations for hand sanitizers to decrease bacteria on the skin and is recommended for repeated use as an antimicrobial.
Jasmine Plum Fragrance: Uplifting modern notes with abstract floral fragrance with a delicate balance of jasmine, violets, juicy plum, subtle sandlewood and musk.
Handcrafted in USA by people with disabilities.
Dimensions:
Weight: